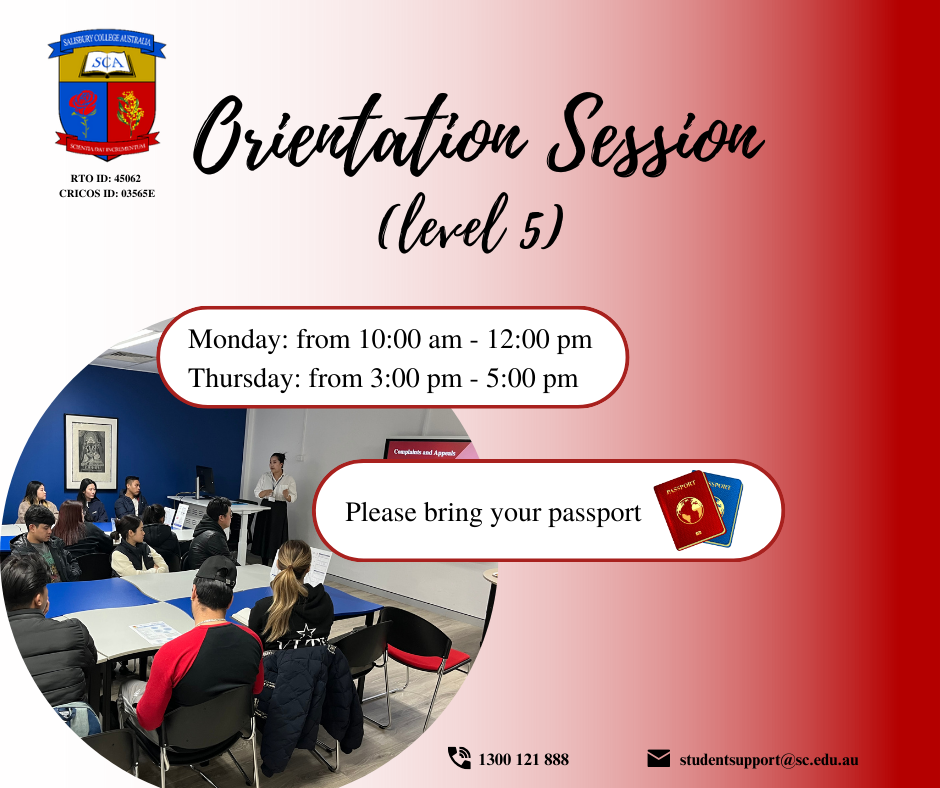 Twice a week: Monday from 10:00 am - 12:00 pm…
Click here to connect to our Moodle Learner Portal.

For more details about COVID-19 please visit NSW Health's website…
Welcome to Salisbury College Australia
Salisbury College Australia (SCA), was founded in 2017 and is a prestigious and innovative college that is committed to providing high quality education to our students from all over the world, ensuring they are actively involved in learning and at the same time granting them all the tools they need to achieve their career goals.
Our trainers and student services team are friendly and always happy to help. Our campus, in addition to offering a modern design with open spaces to create an environment of sharing and connection, offers our students a kind and welcoming atmosphere. We currently offer courses in Vocational Education, Kitchen Management and Hospitality, IT and English.
Our main vision statement is "Walk into your future

", because we wish to empower our students in creating better opportunities to ensure they secure their future career.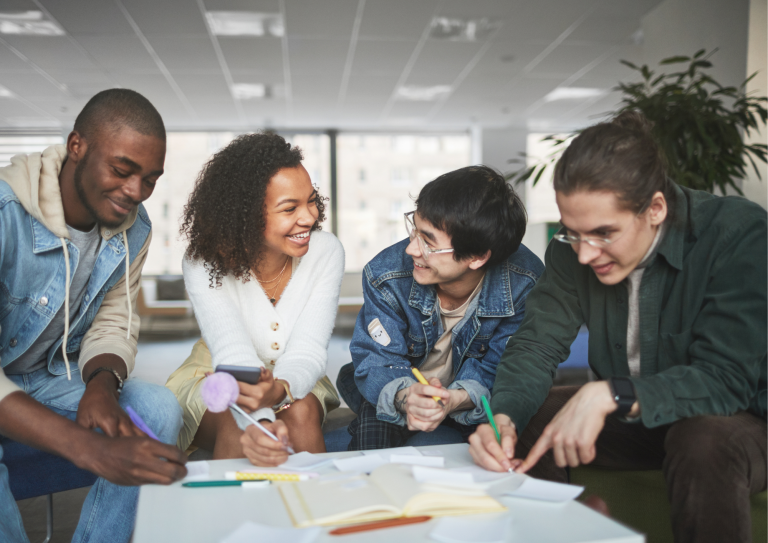 Choosing to study in Australia is an important decision and often making the right decision for your professional career is not easy, but Salisbury College Australia, offers you a wide range of courses, which will help you achieve your goals and choose the future you desire.
Certificate IV in Commercial Cookery Students display their talent.
Salisbury College Australia Handbook
Download your FREE Handbook
Hello! I am Vincent from South Korea. I have learned English for about 2 months. I can study about listening, reading, writing, speaking for IELTS or PTE, etc. If you should come here, you will be happy with learning English and the people who study together. When I studied with my friends who are the kindest in the world. Fortunately, I enjoyed all of the class. I could improve my English skill a lot for the exams and I also met new friends from Thailand, China, Malaysia and India.
Vincent
General English Student
Hi, my name is Tiana. There are many subjects to choose and the college has many facilities. The lessons are really interesting, interactive and we learn by having fun. They are not boring and seems to go by so quickly. Everyone in the college is really friendly and supportive.

Tiana (Charikan)
General English Student
The first time in Salisbury College Australia I was so excited and delighted to have many new friends. My class has international students and then my teacher (Mr. Chris) is very nice and kind. I'm happy with my English class. In the college, there is big common area for students, canteen, computer room, etc. I love this and then the admin staff do smart work and they are nice and kind. I will join another class at SCA.

Pang (Panida)
General English Student
Hello, my name is Nine. I really like the English class environment. When I come to the school, I don't feel alone because I have many kind friends and teacher. The teacher Chris is very good trainer that is helping me to improve my English skill to be better than in the past. He supports and assists me every time when I don't understand the lesson.

Nine (Tanapaka)
General English Student
My name is Ploy. Since the first day that I attended at Salisbury College, it has been quite a good experience, better than what I expected. The staff have been quite helpful and the school facilities are fully equipped. Even though the isn't located in the city center, the transportation here is quite easy and convenient to get here. Our teacher is nice and fun. I learnt a lot from my English class. Last I met so many good friends here and I had quite a great time with them.

Ploy (Wilasinee)
General English Student
My name is Krittiya. I made the right decision to study at SCA. The first thing that the facilities are good and comfortable. The second thing, the staff are so nice and enthusiastic and my classmates are very friendly, talkative and funny. The most important thing is my teacher. He is very focused and pays attention to all students. He is always cheerful, explains and answers questions. I am really happy and enjoy learning with him.

Krittiya
General English Student
Hi I'm Michelle Mananquil! Salisbury College Australia has a good reputation for providing quality vocational education and training programs. As a student taking the Commercial Cookery / kitchen Management course, you have the opportunity to gain valuable practical skills and knowledge that can prepare you for a successful career in the hospitality industry. The course curriculum appears to be comprehensive, covering essential topics such as food safety, nutrition, menu planning, and kitchen management. In addition to the course content, Salisbury College Australia offers a supportive learning environment with experienced teachers and staff who are committed to helping students achieve their academic and career goals. The school provides access to state-of-the-art facilities, including fully equipped kitchens and modern classrooms, which can enhance your learning experience. Overall, Salisbury College Australia seems to be a great choice for students who are interested in pursuing vocational education and training in the hospitality industry. As a Filipino student, you can also benefit from the school's multicultural environment and the opportunity to meet and interact with students from different cultures and backgrounds.

Michelle Mananquil
Kitchen Management Student
My name's Minnie, I'm a student in cookery courses. " If you looking for a campus for cookery and hospitality, here is a good choice "

Minnie
Kitchen Management Student
Hi, my name is Paripat. To be honest it is a very interesting course and I get a chance to improve my personal background and learn new things about the cookery class. I very much appreciate it and I would like to say to Teacher ,My classmate and student support, thank you for awaly patience, kindness, support and coaching. You are the best.

Paripat
Kitchen Management Student
Hello everyone, my name is Elena Budnikova and I am Russian student. I would like to share with you my experience of studying in Salisbury College Australia. It is unbelievable that I have been enrolled more than 1,5 years ago. I feel as it was just yesterday. I already have completed Certificate IV in Commercial cookery and doing another six months course (Diploma in Hospitality Management) right now. There is no single day that our teachers don't support us. Day by day they inspire us, give valuable recommendations, and not just about the course and studying, but about live in general. I consider myself as a lucky person as all college staff look like really passionate about their job and ready to help at the first call. They do their best to guide us to make sure that everyone will successfully finish the course. Last but not least, the location of the college is quite convenient (there is train station right around the corner, some car parks available around, etc.) College is cozy and homey, and modern at the same time. Price of the courses is very reasonable too, therefore the majority of students can afford it. I hope that my story was useful, and you will be pleased with college and Australia as I am.
Elena Budnikova
Kitchen Management Student
Lorem ipsum dolor sit amet consectetur. Mi odio faucibus posuere velit